This summer, the Academy Art Museum provided 211 free summer camp kits for children of essential workers in Talbot County. The kits were packed into empty tennis ball sleeves and distributed to the YMCA, the University of Maryland Shore Regional Health, the Easton Police Department, Easton Public Works, Easton Utilities, and the Talbot County Department of Emergency Services.
The program was called "Summer Camp in a Tube" and included materials and instructions for five different activities typical of what one might find at an in-person summer camp. Ken Kozel, President and CEO of the University of Maryland Shore Regional Health, sent a letter of appreciation for the kits, stating, "I want to express gratitude for your organization's generous in-kind donation of 100 art kits to be given to children of our hospital workers. I am sure they will provide many hours of entertainment during this trying time."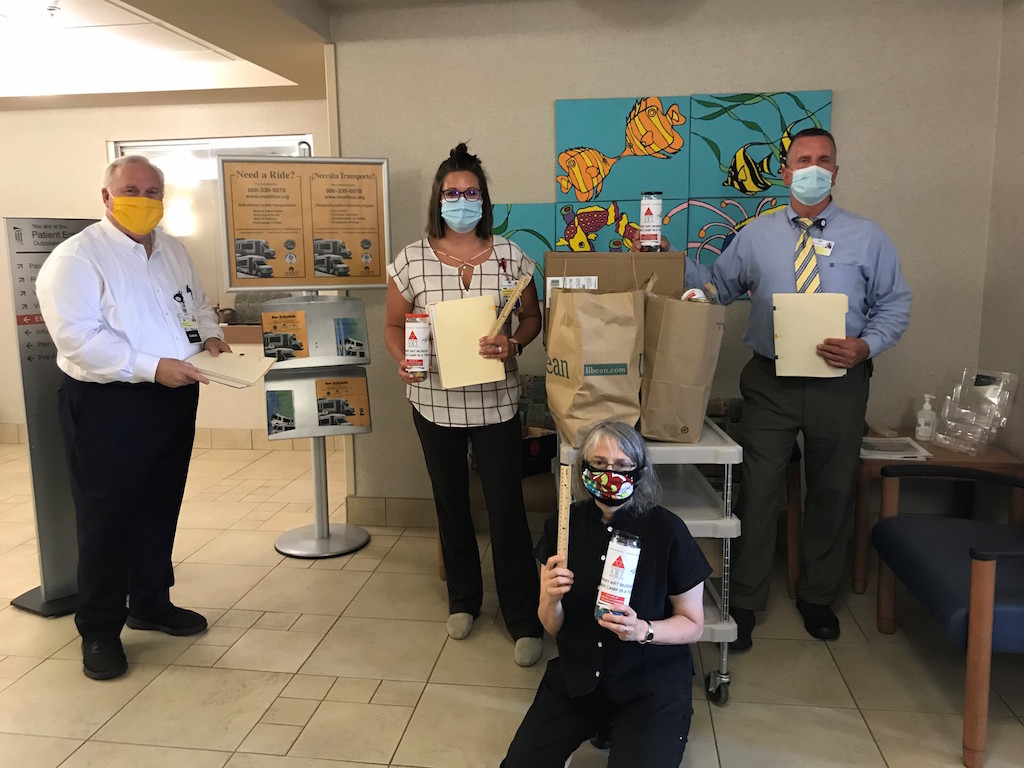 In addition to the summer camp kits, Art at Home weekly emails that feature children's art projects have been shared with area families every week since March. According to Constance Del Nero, Director of Children's Education and Community Programs, 22 different themes have been shared through Art at Home, including creating secret codes, designing family flags, learning about aerial perspective, exploring surrealism, creating creatures out of scraps, and making abstract glue/pastel paintings.
Del Nero states that the Museum is committed to remaining engaged with area children and non-profits throughout the pandemic. She quotes Quanice G. Floyd, Director of Arts Education in Maryland Schools (AEMS), who reminded us how important the arts are when she said, "In times of despair, we need the arts now more than ever. Over the past few months, we've had to 'stay at home' to protect one another and to re-examine who we each are and our place in humanity . . . As we move into the remainder of 2020, please take moments to love, to rest, to breathe, to laugh, to dance, to sing, to listen, to act, to draw, to create to question, to change, and to cherish humanity. The arts can teach us how."
This fall, the Museum will introduce a new program called Museum Inside Out! Because it is doubtful that schools will be able to send children on field trips, the Museum will offer their students unique and important ways to learn through the arts. For example, the Museum will be sharing special video content with teachers that focuses on its current exhibitions and/or works in its permanent collection and will also supply teachers with materials and instructions to work on a project related to the artwork featured. As with all ArtReach programs, there is no cost to participate in Museum Inside Out!
The Museum is offering another tweak to its usual fall programming with the opportunity for schools to participate in its signature program, Museums in the Museum! (MiM), from home or as part of an independent study. In 2012, the Museum launched MiM as a special curriculum project to introduce fifth graders to the concept of museum thinking. The program teaches children how a museum functions, asks them to consider what their ideal museum would look like, and helps them create their own miniature "museums" in diorama boxes. The program has typically culminated in an exhibition of student museums at the Academy Art Museum, hence the name Museums in the Museum!
In 2020–21, the Museum invites children to imagine their own personal museums and work on "museum"-creating remotely. Interested teachers will be sent a PowerPoint that outlines the program and supplied with diorama boxes and select art materials for their students. If it is safe to do so, finished student "museums" can be transported to the Museum in the spring for an impromptu exhibition and a reception. If it is not safe, the Museum will design an online exhibition of student museums and furnish children with a certificate of participation.
Finally, due to COVID–19, the Academy Art Museum will not be able to offer in-person Family Art Days in the fall but instead will initiate themed "Grab-n-Go" art kits that parents can pick up at the Museum and work on at home with their children. The first session will focus on learning about Mexico's Day of the Dead (Día de Muertos). The Day of the Dead holiday involves family and friends gathering to pay tribute to friends and family members who have died and helping support their spiritual journey. Pick up dates for Grab-n-Go Day of the Dead Art Kits are Friday, October 30th through Saturday, October 31st at the Museum. There is no cost to participate, but pre-registration is required.
To find out more about any of these programs, please visit academyartmuseum.org or email Director of Children's Education and Community Programs, Constance Del Nero, at cdelnero@academyartmuseum.org.
Cover Image: Pictured are essential workers at Easton Utilities who received art kits for their children. Left to right are Arlesha King, Brian Richards Kaitlin Foster-Clark, Melissa Book, and Anderson Watson.