Join Suzanne Sanders for 2 FREE movie presentations at the Talbot Free Library
Chesapeake Forum Course Leader and Board Member, Suzanne Sanders, will be introducing and leading a discussion about two Shakespeare plays that have made it to the big screen.
Looking for an 'easy' and fun way to learn how to understand Shakespeare? This is the PERFECT opportunity!
Mark your calendar for Saturdays, April 23rd and 30th from 1-3:30pm.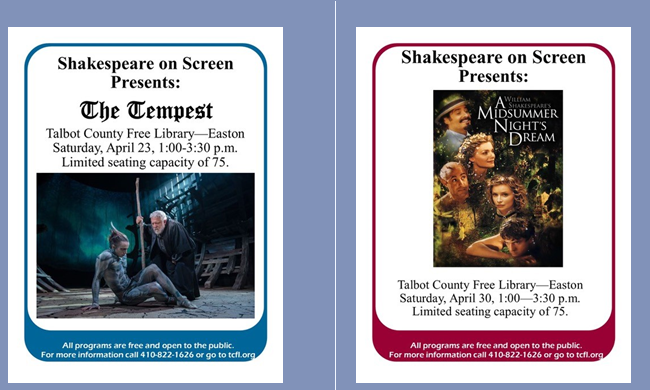 There is still time to sign up for Suzanne's class with Chesapeake Forum!
Friending Shakespeare with Suzanne Sanders
This fun introduction to Shakespeare is full of hints to help you enjoy and understand his plays in the way that works best for you.
Wednesdays | May 11, 18, 25 | 10 – 11:30 am | Zoom – LEARN MORE