The Garden Club of the Eastern Shore is excited to announce that internationally recognized food researcher, author of Eat Like a Human, former anthropology professor, and founder and director of the Eastern Shore Food Lab, Dr. Bill Schindler, will be presenting a talk and book signing at the Avalon Theatre in Easton on March 9 at 11a.m. Dr. Schindler, who lives in Church Hill, created the Eastern Shore Food Lab, a research and teaching laboratory at Washington College, in 2017. It is now in the process of becoming a non-profit focused on research, education and outreach and offers classes on making such interesting things as sourdough bread, mozzarella cheese and lacto-fermented vegetables. His family's Modern Stone Age Kitchen, with a mission to preserve and revive ancestral dietary approaches to creating nourishing food for the community, has its storefront located at 236 Cannon Street in Chestertown.
Bill's book, Eat Like a Human, explains to readers that food is more than nutrition; it should also be a cultural experience that is invaluable to one's health and happiness. He encourages folks to find local food, including plants, animals and even crickets, that is as nutrient dense as possible and to prepare that food using methods that release those nutrients and make them available to our bodies in the way that our ancestors did to not only live, but to thrive. This book offers sage eating advice and recipes from ancient cultures.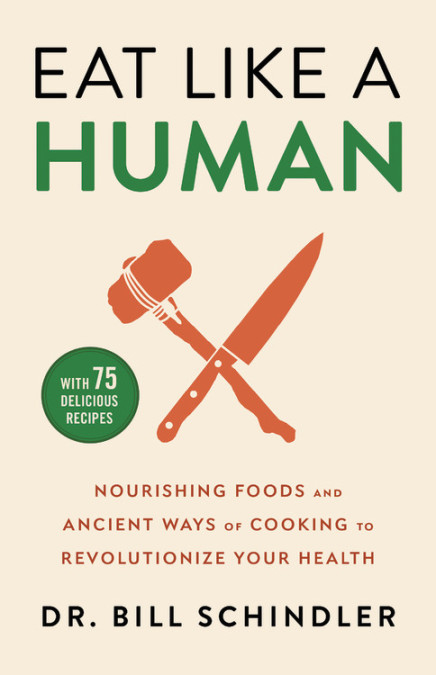 The "locavore" movement and farm-to-table mentality here on the Eastern Shore of Maryland encourages foraging for and using plant and animal materials from the local landscapes, waterscapes and many specialized farms in our area, such as Cottingham Farm, FRESHFARM Markets, and Chapel's Country Creamery. In our lifetime, we have watched generations of children who have become less associated with where our food comes from and relied more on prepared sources. The proliferation of fast-food restaurants and carry-outs available in our area is astounding. Teaching children about the enormous possibilities of being "hunters and gatherers" and focusing on the food opportunities here on the Eastern Shore is so important. Families need to concentrate on making food from scratch using natural ingredients found right on our doorstep. Children will be more inclined to eat a dinner that they helped prepare from start to finish.
Dr. Schindler is an inspiring teacher who encourages people to remove one or two links in the food chain and to take a step closer to their food. An easy way to start is to make something like bread. Sourdough bread is a completely different food for your body than any bread you buy in a store and is relatively easy to bake. Bill's Modern Stone Age Kitchen offers classes on sour dough bread making and there will be bread and other delicious items for sale at the end of the 45-minute presentation and book signing.
Plan to attend this interesting, free event with unreserved seating, presented by the Garden Club of the Eastern Shore, on March 9 at 11 a.m. at the Avalon Theatre in historic downtown Easton. The Avalon Theatre's Covid protocols will be followed.