Each year, Easton celebrates our Irish heritage during St. Patrick's Day. Discover Easton will host St. Patrick's Day festivities in downtown Easton on Tuesday, March 17. The fun includes the annual St. Patrick's Day Parade and local favorite St. Patrick's Day Potato Races immediately following the parade. For the first time ever in Easton, the Maryland Lottery will join the fun with a live drawing of the Pick 3 and Pick 4 lottery numbers on Washington street at 7:55 p.m.
The St. Patrick's Day Parade starts at 5:30 p.m. and features over 40 floats, bands, classic cars, and local businesses. Many businesses and organizations will decorate golf carts from Hog Neck Golf Course, showcasing their Irish spirit and decorating talents. Judges will vote for the BEST DECORATED GOLF CART trophy winner. The parade loop starts at the intersection of N. Washington Street & Harrison Street (near Easton Utilities), heads south on Harrison Street, turns west on Dover Street to Washington Street, North on Washington Street, and concludes in front of Easton Utilities.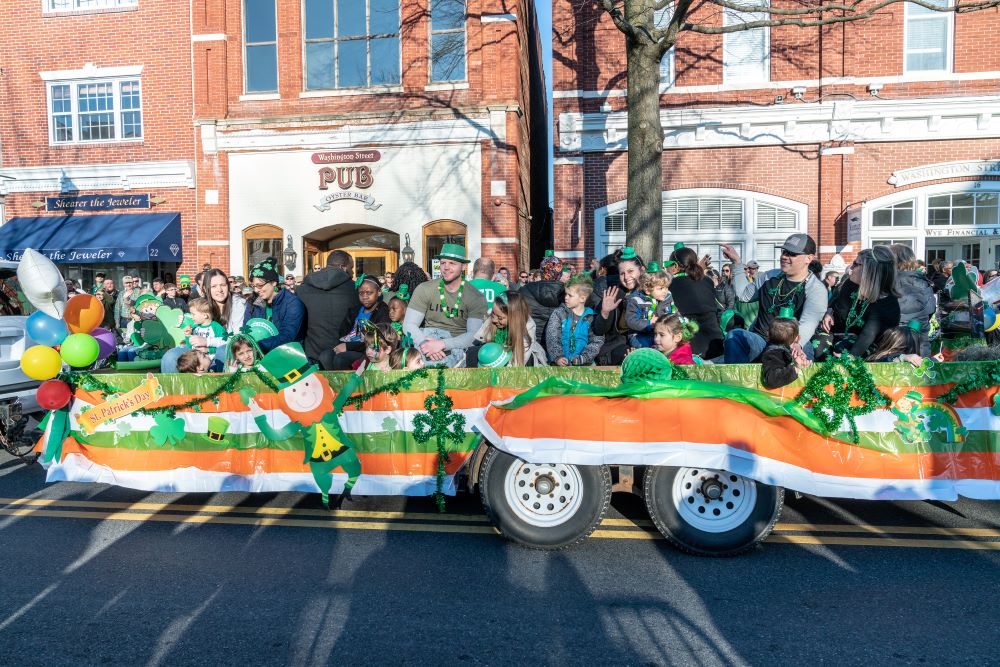 The St. Patrick's Day Potato Races, sponsored by Young Professionals of Talbot County, takes place on Washington Street immediately following the parade. Watch as teams of four relay down the street while balancing a potato on a wooden spoon and transferring their potato to teammates at relay points. The first-place team will have their name engraved on the race trophy.
The Maryland Lottery will be in Easton with WBAL-TV to record the St. Patrick's Day fun and to hold the live broadcast of the Pick 3 and Pick 4 drawing. The broadcast and drawing will happen on Washington Street in front of the Talbot County Courthouse (11 N Washington Street). The crowd will be encouraged to participate during the drawing by showing their excitement and St. Patrick's Day ensembles for the cameras and those watching at home. Maryland Lottery will be handing out giveaways and free scratch-offs to people in attendance.
Visit www.discovereaston.com/st-patricks-day to learn more about the St. Patrick's Day festivities and to register your team for the Potato Race.
About Discover Easton: Discover Easton is a marketing, promotion and events non-profit organization operating as a member of the Mid-Shore Community Foundation. The mission of Discover Easton is to enhance, promote and preserve the vitality of Easton's independent merchants which benefit business owners, residents, and visitors; and to bring awareness to the Town's historical roots and lifestyles. For more information regarding Discover Easton and its events, please visit www.discovereaston.com or email welcome@discovereaston.com. Stay connected to Discover Easton on social media: @discovereaston.